SERVICE / PHILOSOPHY
SERVICE・PHILOSOPHY
Sound production essential
to the world of play
High-quality music and cutting-edge interactive sound
Noisycroak was established in 2004 as a production company specializing in game sound.
We have been involved in the production of more than 1,000 works, and currently provide our technology and works to a wide range of fields, including not only games, but also movies, animation, XR, and the Metaverse.

This has many interesting features not found in other media. Such as looped background music, varying music depending on the player's actions, changing the number of music tracks in real time, and individual effects on sound effects depending on the player's location. The originality of game sounds lies in the fact that the sounds are animated by free actions of the player.

It means that game sound requires a very high level of skill to create. It is indeed essential to have an accurate understanding of the plan and specifications of the work, but it is also essential to have the ability to make proposals, that are supported by concrete technical skills, which is our pride.

We promise to make full use of the know-how we have gained from countless productions over the years to greatly improve the quality of your work.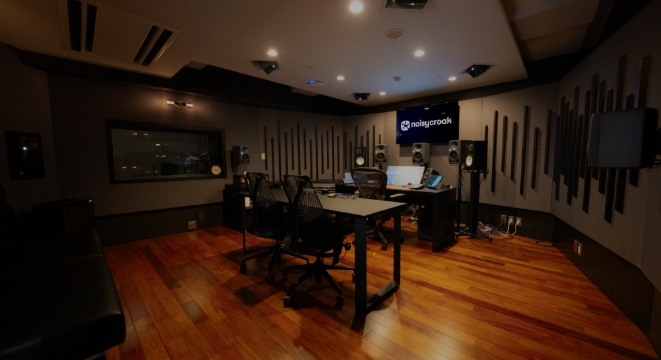 To a higher level of game sound
A challenge to the best quality
At Noisycroak, each music and sound effect is created with care and attention, as if we were polishing a pearl.

Since sound production is a very special field, it is not necessary for the client to complete the order list. Abstract requests is sufficient. We have a team of excellent composers and creators who can freely give shape to your image, and we will actively make proposals after having your samples. Please feel free to contact us first.

If you are not satisfied with the result, we will be happy to make as many changes as time permits. Working together with our customers will eventually lead to the production of wonderful works.
A wide range of creators and optimal staffing
We have a complete lineup of and creators and multi-use recording studio.
-Creators

20 creators; including composers, sound effect designers, sound directors, and sound engineers as full-time employees.
In order to maintain high quality, the worst thing is to assign a creator who are "just available".
We believe that the most important thing is to draw out the strengths of the creators and make the most of them in the work, so we assign the most suitable creators after deeply examining the contents of the request. In the case that we are unable to do so, we may refuse the request after explaining the reason.

-Sound Engineer

We have a full-time engineer specializing in recording and track down. He has been involved in the recording of tens of thousands of songs and will use his experience and skills to prepare high-quality data for delivery.